Whirlpool is a name synonymous with quality and innovation in the world of appliances. Their gas stoves have long been popular for their efficiency, performance, and sleek design. And now, with the introduction of
Whirlpool's Gas Stove Aluminum Burner/Oven Knobs
, they have taken their gas stoves to a whole new level.
The Aluminum Burner/Oven Knobs by Whirlpool are designed to offer a perfect blend of quality, style, and functionality. Made from high-quality aluminum, these knobs not only look great, but they also provide excellent durability and performance. The aluminum material ensures that the knobs can withstand high temperatures and constant use without losing their shape or functionality.
One of the standout features of Whirlpool's Gas Stove Aluminum Burner/Oven Knobs is their stylish design. These knobs add a touch of sophistication and elegance to any kitchen. The sleek and modern look of the aluminum knobs complements the overall aesthetic of the gas stove, creating a cohesive and visually appealing kitchen setup.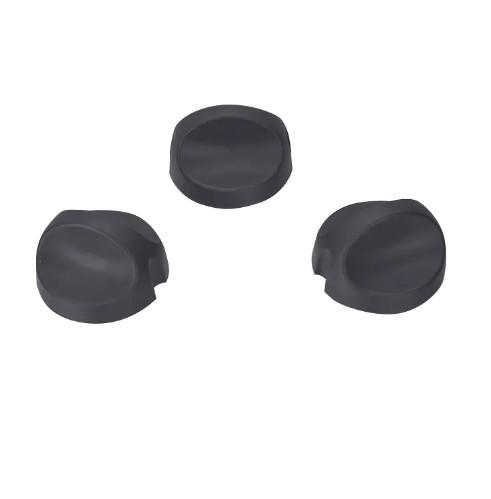 However, it's not just about looks - these knobs are also highly functional. They are designed to provide precise control over the burners and oven temperature, allowing users to easily adjust the heat to achieve the perfect cooking results. The knobs are ergonomically designed, making them comfortable to grip and turn. They feature clear markings and indicators, making it easy to see at a glance which burner or oven setting is being used.
In addition to their aesthetic appeal and functionality, the Aluminum Burner/Oven Knobs are also incredibly easy to clean and maintain. The smooth surface of the aluminum knobs prevents buildup of dirt and grime, making them easy to wipe clean with a damp cloth. This eliminates the hassle of scrubbing and ensures that the knobs always look as good as new.
Safety is also a top priority for Whirlpool, and the Aluminum Burner/Oven Knobs are no exception. These knobs are designed with safety in mind, featuring a heat-resistant coating that prevents them from getting too hot to touch. This reduces the risk of burns or accidents, ensuring that users can cook with peace of mind.
Installing the Aluminum Burner/Oven Knobs is a breeze, thanks to Whirlpool's hassle-free design. The knobs are compatible with Whirlpool gas stoves and can be easily replaced or upgraded. With their straightforward installation process, anyone can effortlessly enjoy the benefits of these high-quality knobs in their own kitchen.
In conclusion, Whirlpool's Gas Stove Aluminum Burner/Oven Knobs offer a winning combination of quality, style, and functionality. From their durable aluminum construction to their sleek and modern design, these knobs are a valuable addition to any kitchen. With their precise control, easy cleaning, and safety features, Whirlpool has once again proven why they are a leading brand in the world of appliances. Upgrade your gas stove today with Whirlpool's Gas Stove Aluminum Burner/Oven Knobs and take your cooking experience to the next level.